Following the London Olympic Games and the success of boxers like Anthony Joshua, we have seen a significant increase in demand for boxing dinners as a means of corporate hospitality. We are very proud to be established as the market leaders in this sector.
From the moment you arrive, your guests will be immersed in luxury: beautiful surroundings, a Champagne reception, exquisite banqueting tables and a three course meal prepared by a renowned chef, all complimented by a wide selection of fine wines.
Every aspect is taken care of meaning that you, as a host can focus on entertaining your guests and leave the logistical aspects to us.
The Mayfair Sporting Club brand continues to be trusted by many of the UK's most prominent corporate entities and takes this responsibility very seriously. By ensuring that the level of presentation and service is outstanding, clients can focus on liaising with their guests and optimising the value of the event.
But that's only part of what a Mayfair Sporting Club's event is about.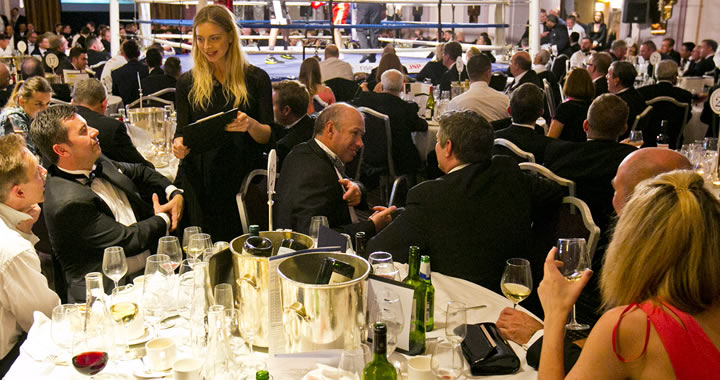 The opulent surroundings and convivial atmosphere at our events constitute the perfect setting for building relationships, creating memories and raising funds and awareness for charities and foundations.
Proceedings commence with a Champagne reception, followed by guests being shown to their tables for a sumptuous meal before watching the action unfold in the ring. There's plenty of opportunities to connect with fellow attendees between bouts and often a high profile guestlist which always adds to the occasion.
Corporate entertainment
If you're looking for an event to entertain clients and colleagues – look no further. The combination of a prestigious venue in a prime location, excellent food and wine together with the excitement surrounding the events within the ring itself make our Mayfair Sporting Club events ideal for networking and entertaining.
---
Black-tie dinner boxing is without doubt a big favourite in terms of getting a positive response from our invitees, it offers a different night out and certainly one which stands out in the memory.
Managing Director, The Consultancy Bureau
---
Packages
All our guests experience the same level of exquisite service at every one of our events, but there are three different packages to choose from:
Standard:
Champagne reception
Three course meal
X Bouts of boxing in the ring
Access to betting facilities
Paid for bar
Premiere:
The same as for standard, but also including:
Priority positioned table
Half bottle of wine per person
Ringside:
The same as standard, but also including:
VIP Ringside positioned table
Wine with dinner
Branding on tickets, menu & corner post
Private Champagne Reception
Personal welcome from the MC
---
Sponsorship
There are a wide range of sponsorship opportunities at our events, from exclusive sponsorship of the entire event through to ring side signage, and a whole host of other options.
Please get in touch with us to find out more.
---
Bespoke events
If you wish the organise an event specifically for your business, the Mayfair Sporting Club can organise a bespoke event for you. Please see our Bespoke Events page.
---
---